The Life of Lucy Stephenson (Wife)
1788 - 1850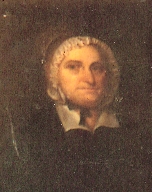 Lucy Swearingen Stephenson spent much of her life on the frontiers of the United States. Lucy was born December 6, 1788, in her father's prestigious two-story log cabin overlooking the Ohio River near present day Wellsburg, Virginia (West).
She was the daughter of "Indian" Van Swearingen and his third wife Eleanor "Nellie" Virgin. Lucy's father died when she was five and her mother later remarried. In 1799, the Scotch Irish Chronicles record reports Lucy Swearingen as the wife of Benjamin Stephenson. Lucy was 10 ½ years of age and Benjamin was age 30. During the early 1800s Ben spent time in Cuba for his health and Lucy remained in Virginia where she received the education provided for her in her father's will. Eleanor Julia, the couple's first child, was born in 1803 at Harpers Ferry.
In 1806, Lucy reached the proper age for her to receive her inheritance of a substantial amount of land and wealth from her father's estate in Brooke County, Virginia (West). The Stephensons' second child, James, was born there while Lucy was settling the estate of her father. After she sold the inherited land, the Stephenson family moved from Virginia to Russellville, a frontier town in Logan County, Kentucky. Their third child, Elvira, was born there in early 1809, while they awaited the opening of the Illinois Territory. In 1809 Lucy traveled with her husband and three children to Kaskaskia, a town settled by the French, in the Illinois Territory. The couple's fourth child, Benjamin V. was born here.
Lucy, the frontier lady, watched over, guided and educated her four children. A lasting friendship developed between Lucy, wife of Benjamin Stephenson, Sheriff of Randolph County, and Elvira Edwards, wife of Ninian Edwards, Governor of the Illinois Territory. The women raised their children together in Kaskaskia when the men were gone for long periods of time with business, politics and the War of 1812.
The children of Lucy and Benjamin Stephenson reached adulthood in the town of Edwardsville, Illinois. They were one of the first families of the state, and lived an elegant lifestyle amidst the social life in the frontier town. In Edwardsville the children married or struck out to make their lives in Illinois. Lucy remained in Edwardsville for twelve years after the death of her husband in 1822. In 1834, a new frontier beckoned and Lucy journeyed to join her daughter Julia and family in Carlinville, a new Illinois frontier. Here she was a charter member of a Presbyterian church and bought and sold property until her death. Lucy's years as a widow brought to light her strengths, courage, intelligence and role as matriarch.
Miss Lucy, the frontier lady, died in 1850 in Carlinville, her final frontier town.