EDUCATION FIELD TRIPS, TOURS AND PROGRAMS
The 1820 Colonel Benjamin Stephenson House offers a variety of field trips, tours and programs for students, primary through secondary. Special seminars and lectures are also offered for the adult learner and are scheduled throughout the year as described under the Special Events section.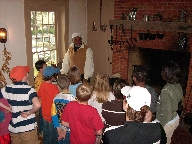 Appointments for scheduling a field trip or tour can be made by calling the Col. Benjamin Stephenson House at 618-692-1818. The cost for a field trip and/or tour is $2.50 per student (regardless of age). Parents' accompanying a field trip or group tour, the fee is $5.00. Student groups up to sixty can be accommodated per visit. Field trips or tours for school age students are conducted Wednesday through Fridays during normal hours of operation. School buses are requested to unload students and park on the Linden Street side of the property.
Field trips tours take two hours and are empirical in nature. Students touch, see, hear, and smell aspects of life in the 1820s. Students are divided into two or four groups (depending on class size) and interact with historical interpreters at hands-on stations.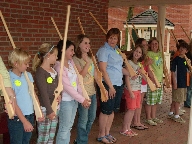 School tours are designed for each grade level. Students have the opportunity to experience history through hands-on play and learning stations.
Download our Educational Concepts brochure for more details.