JAMES W. STEPHENSON
1806 – 1838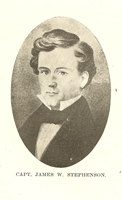 James W. Stephenson, the Stephenson's second child, was born in Brooke County, Virginia, in 1806. From information inscribed on his tombstone we know that he was born before the month of August, in 1806. James lived in Jefferson County, Virginia, Logan County, Kentucky, Kaskaskia in the Illinois Territory, and came to Edwardsville when his father was appointed Receiver of Monies.
During his youth in Edwardsville, James was an officer in the Illinois Militia and an inspector of the 1st Brigade, 1st Division. He was with Palemon H. Winchester on the night in January 1825, the night of the murder of Daniel Smith. James, his friend James Henry, and Palemon H. Winchester were arrested and jailed for this murder. James Stephenson and James Henry were released the following day. Palemon remained in jail and 6 weeks later was tried and acquitted of the murder of Smith.

James moved to Galena in 1828, at the age of 22, where he most likely spent two years doing surveying work. He then went on to hold numerous county posts including clerk of the commissioners' court, clerk of the circuit court, and county recorder. He was always looking for ways and places to improve himself.
The information we have about James Stephenson is found in the writings of Jeanne Lebron. She mentions that from a body of letters filed with the James W. Stephenson estate papers in the vault of the county clerk's office in Jo Daviess County, an interesting story of life in Illinois in the 1830's evolves. She speaks of the life of James W. Stephenson "…a strikingly handsome man, with a personality that quickly won him many friends. That he was talented there is no doubt, for he rose to prominence when he was much younger than his contemporaries of the Black Hawk War, Abraham Lincoln and Jefferson Davis."
While living in Galena, Stephenson organized a band of Rangers to fight in the Black Hawk War. He was a daring young fighter; and his name is associated with a bloody 1832 battle at Apple River.
He was elected to the Illinois Senate in 1834, but resigned the next year to serve as Register of the Galena Land Office. He is also shown as Receiver of Monies at the Galena Land Office. It is not clear if he actually held both these positions, or if it is a kind of typographical error.
Stephenson came to St. Louis in December of 1834 and married Ellen Kyle, whom he had been courting for some time. The newly married couple arrived in Galena in the spring where James rented a house from a Thomas Legate. He then purchased furniture, including mahogany dining tables, fine linen, a mahogany sideboard, a sofa, and other furniture from Legate. James bought a fine carriage for Ellen to use when she went calling; he already had one carriage, but it was growing shabby and dusty.
"They drank champagne and the finest brandy at their parties, with a black servant in livery to add the final touch. Sperm candles lighted their home brilliantly. Ellen kept up on the literary topics of the day, and read such best sellers as Byron's poems. She was dancing through her kid slippers every few nights, and having to buy new ones, together with a few artificial flowers and a new pair of gloves to brighten her costume for the next night's pleasures. Although her husband joined her strenuously in the social life, he never rested from his political duties. If he sometimes felt too great fatigue, if his cheeks were flushed and his too bright, no one noticed, least of all, Stephenson himself."

Taken from "Colonel James W. Stephenson: Galena Pioneer" by Jeanne Lebron.
Stephenson was the Democratic candidate for governor, but the campaign was scarcely under way in 1838, when newspaper articles began to appear, denouncing Stephenson as a defaulter to the federal government in his accounts as Receiver of Lands at Galena. It appears that the shortage in his accounts was caused by the fact that he had to accept in paper money in payment for land, which was subject to a considerable discount when he sent his payment to the Secretary of the Treasury. Ironically, his father, Benjamin, was questioned about the paper money received at the Edwardsville Land Office.
James W. Stephenson had beaten a rumor of defaulting in his account as clerk of the commissioners' court in his first campaign for the Illinois Senate. It must be remembered that such personal slander was so much a part of every political campaign in those days that the general public listened, but with half an ear.
Stephenson was an extremely ill man in the winter of 1837-1838. Had he been well it is felt he would have been able to conduct a successful campaign.
In May of 1838, Lucy wrote a warm letter to her son, James. She had recently seen the Chicago Democrat and was astonished to read the piece denouncing him. "Now, James, if I were you, I would not decline. I would run and let them bring out their man. I would retaliate it on them by running if I even gained a defeat. A pretty set of friends!!…I hope you will not let these things prey on your health."
Lucy, the strong woman and mother, had her say! James did write an article denying the rumor that appeared in the Galena Gazette. Not long thereafter, James withdrew; he did not have the strength to continue a newspaper campaign. On August 6, 1838, Thomas Carlin, the man who replaced James on the ballot, was elected Governor of Illinois. Less than a week later, August 12, 1838, James died at his home in Galena of tuberculosis, aged thirty-two. He was buried the same day with military honors.

His infant daughter, Lucy Ann, died within the same year from tuberculosis. Ellen soon moved to Freeport with her son Kyle, to live with her sister Jane, the wife of John Clark, a surveyor and attorney. She was married again in 1843, to Col. Wm. Mitchell of Freeport who had established a bank in Freeport. Ellen had apparently contacted tuberculosis from her first husband, James, as she died nine months after her second marriage, when she was only twenty-nine years old.
Jane Clark took little Kyle Stephenson into her own family, and when John Clark was appointed surveyor general of New Mexico, Kyle moved west with the family. He died in Arkansas in 1864.
Before his death, he had erected on the Mitchell lot in the Freeport cemetery –to which his father's remains had been moved from the Galena cemetery, and where his mother and little sister were buried – a monument to their memory.
Colonel James E. Stephenson
Died 1838
AE 32 years
Eleanor
Relict of James
W. Stephenson and
Wife of James Mitchell
Died 1844
AE 29 years
Lucy
Daughter of James W. &
Eleanor
.