ELVIRA AMANDA STEPHENSON
1809-1881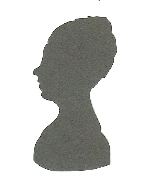 On March 23, 1809, Elvira Amanda was born to Lucy and Benjamin Stephenson. The family left within the next several months for Kaskaskia, Randolph County, in the Illinois Territory. In 1817, Elvira came with her parents to the Illinois frontier town Edwardsville, Madison County, Illinois. Here she was educated and grew up amid wealth and fashion where she was a belle among one of the first families of the state. She was a widow at an early age with four young children and limited income. She soon moved to Carlinville, Macoupin County, Illinois, to be with her mother who was very ill and at the same time it was a place of refuge for Elvira. Her mother died in 1850. Shortly thereafter, Elvira married County Clerk Enoch Wall who died in 1858. In February 1860, Elvira married William Maddox, County Treasurer and prosperous merchant and farmer. Maddox died in early 1881 and Elvira died November 6, 1881. Elvira died in the extreme of bitter poverty, but she maintained a kindly disposition, known to her friends as Auntie Maddox. William H. Starr, who was in the Arizona Territory, was her only surviving child at the time of her death.
Elvira was buried in her own lot in the Carlinville City Cemetery.
March 23, 1809 Elvira born near Russellville, Logan County, Kentucky.
1817 Came to Edwardsville, Madison County, Illinois with parents
April 26, 1827 Elvira marries William E. Starr of St. Louis
1828-1836 Has four children: Male child (1828); James (1830-after 1860); William H. (1832-after 1881); Female child (1836)
May 6, 1843 William E. Starr dies in Edwardsville, age forty.
Before 1850 Elvira moves to Carlinville, Macoupin County, Illinois
1851-1852 Elvira marries Enoch Wall in Carlinville
August 22, 1858 Husband Enoch Wall dies in Carlinville
February 2, 1860 Elvira marries William M. Maddox, in Carlinville
Before Nov. 1881 William Maddox dies in Carlinville
November 6, 1881 Elvira Stephenson Starr Wall Maddox dies Carlinville, Illinois
William H. Starr is her only surviving child and resides in the Arizona Territory.